Greensboro Dog Kennels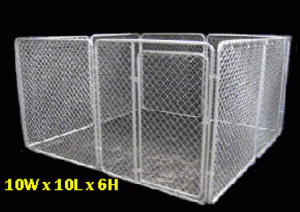 We carry Greensboro Dog Kennels, whole kennels, individual panels, tops and other accessories. Our free-standing, high-quality chain link kennels are very competitively priced and come 10 x 10 standard. We offer varying heights of 4′, 5′ and 6′ and can custom order any size. Our dog kennels are guaranteed for one year against manufacturer defects and dogs chewing through them.
Dog Kennel Delivery and Installation
We deliver our Greensboro dog kennels with no minimum order amount required. We offer same-day delivery, friendly service, and high-quality products. We will also install our dog kennels at your property for a reasonable fee. Simply contact us or give us a call at 336-676-1217 to ensure the kennel is in-stock, we'll deliver it to your home and take care of the installation. You can rest assured knowing your pet is secured and protected from other animals or from getting lost.